Following on from my
last post
about my recent trip to the Dingle Peninsula in Co. Kerry, it wasn't all wet and windy for the week. The sun did eventually shine a little, and after much searching I did find a silver lining amongst all the clouds in the form of a very welcome bass of about 3lbs. I also caught some more wrasse, pollock and also a few Sea Trout too. That evening I met up with my friend
Tomek
again to fish an estuary mark and we were both hopeful of a few fish as the conditions looked a lot better than the previous few days. However for all our efforts we just ended up with one lost fish and two dropped fish between the two of us. I decided to call it a night but Tomek stopped off to try one more mark that we had tried earlier in the week. Well the gamble paid off and for 20 minutes the fish came on the feed. I couldn't believe it when I saw his text the next morning '7 bass in 20 minutes', well I didn't need to be told twice and was raring to go the next day. I met Tomek at his lucky mark the next day but again the wind had changed for the worse and again nothing.
With my trip to Kerry nearing an end I decided to go back to the one mark that had been producing wrasse and indeed my only bass of the trip, to try it one last time. I rigged up with a weight-less and weed-less Wave Worm and began casting it over the reefs and slowly twitching and working it below the surface when all of a sudden I saw a bass come clean out of the water as it hit my lure. After a brief fight a fin perfect bass of 4-4.5lb slipped into the net, rounding off the trip nicely.
I guess the bass just weren't around in any numbers for the week I was there because I know that some of the marks which I finished, had fished well in previous weeks but the constant northerly winds seemed to have just killed the fishing. To make matters worse I've since heard that in the last few days the wind has changed again to the south-west and immediately the fishing has improved hugely with lots of bass being caught. I'm already planning my next trip though and can't wait to get back down there for a few more days in the Autumn.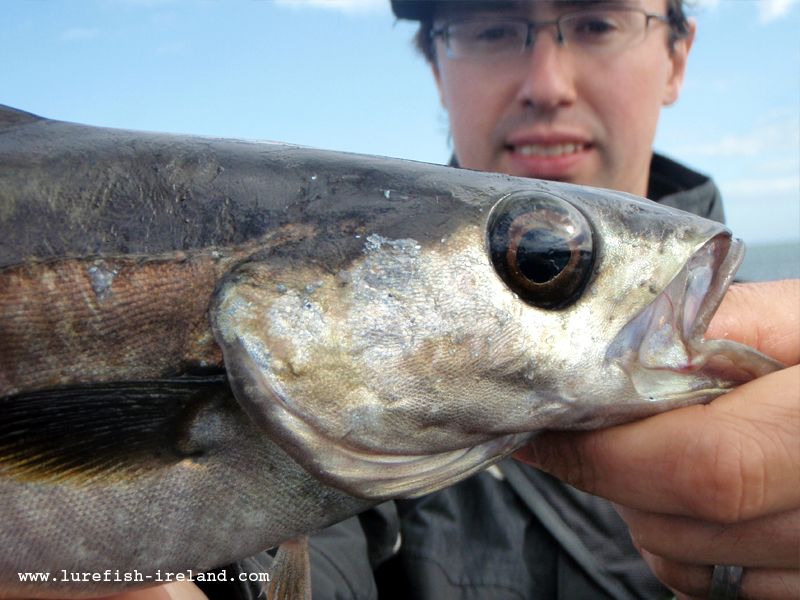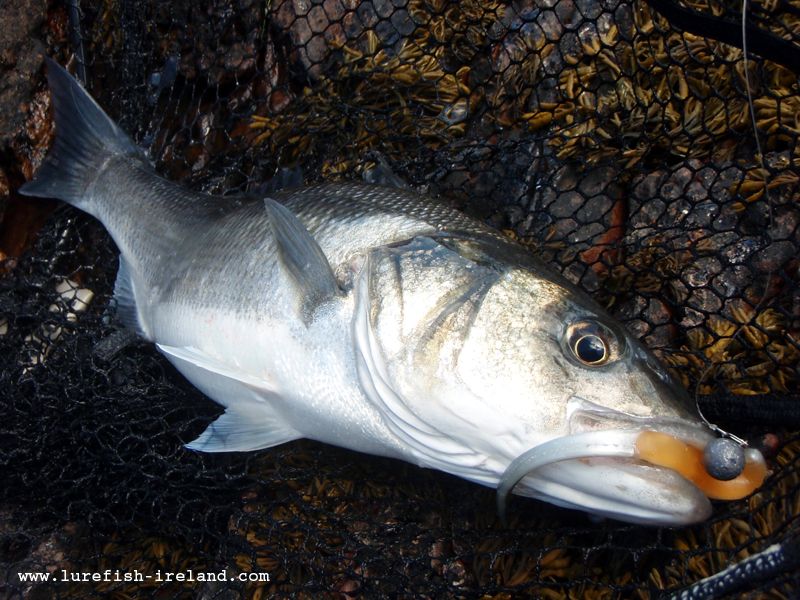 Rod: Sakura Rookie 8'6"
Reel: Shimano Rarenium 4000
Line: Sunline Super PE 20lb (Braid) / Sunline Siglon Fluorocarbon 10lb mainline
Leader: Sunline Siglon FC 15lb Leader
Lures: Various soft plastic lures and jig heads