Sam has been kept busy for the last couple of weeks with the LRF stuff and he's been racking up the species count too. Anyway here's a couple of his recent reports:
08/05/11 - Thunder and Lightning
Well with the South-East winds still gusting along the coast any hope of lure fishing for Bass was out. So a bit of LRF in Dun Laoghaire harbour was the order of the day, I put my bike in the back of the car as this would allowed me to cover more ground.
My first stop was the steps just before the end of the West Pier where I landed a Corkwing Wrasse on a drop shot rig, size 6 hook, and an Ecogear Straw Tail Grub 2" (pink).
I made a move to the end of the West pier where I thought there might be a chance of some bigger Wrasse but as it was getting dark I did not hold up much hope of landing one. With no fish showing and some very nasty rain clouds starting to close in, I made a dash back to the old Coal Pier where my car was parked and all hell broke out. thunder and lightning for the best part of a hour meant no fishing. After it passed I fished for a little while and caught a small goby on a Marukyu Power Isome Worm (pink) and 2g jig head.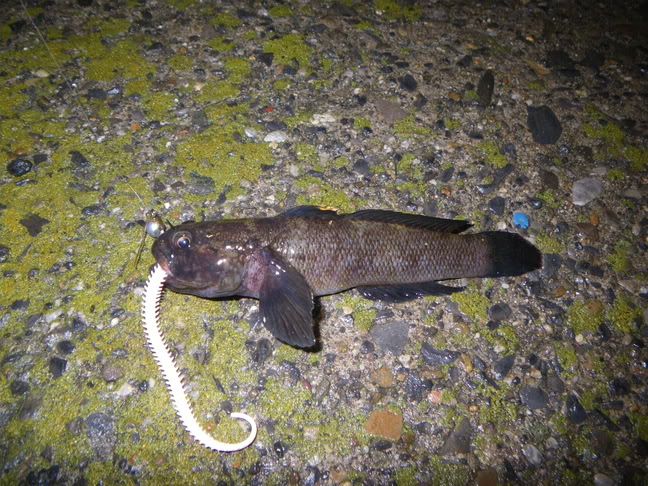 Rod: Cormoran ULX 1-9g
Reel: Shimano Ci4 Stradic 2500
Line: 2lb Yamatoyo Spinning FC
Method: Dropshot
Lure: Ecogear Straw Tail Grub 2" (Pink),
Marukyu Power Isome
30/04/11 - POOR WEATHER...POORCOD
Hi all, Was hoping to do a bit of Bass fishing Saturday night, But a strong SE wind put pay to that plan. Back to plan B a LRF session at Dun Laoghaire harbour, on arriving at the venue the wind was blowing hard. I started with a 2g jig head but could not keep control the lure so I changed to a 1/8oz drop shot and the bites started and after losing four rigs I landed my first Poorcod on a lure. I fished on for a little longer and picked up a small scorpion. A big swell coming into the mouth of the harbour made fishing the light gear very hard.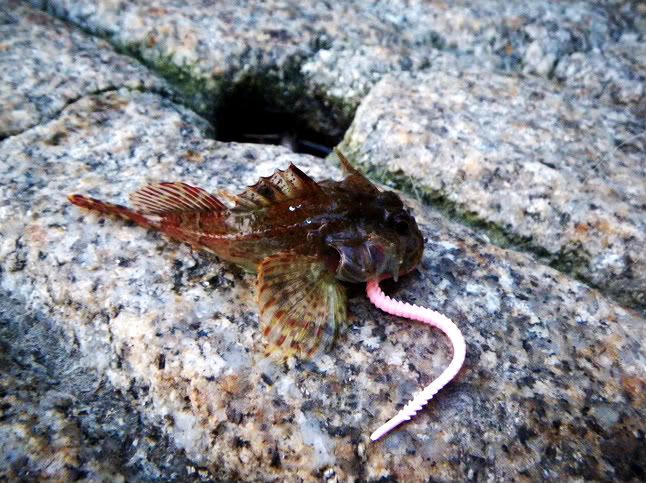 Rod: Cormoran ULX 1-9g
Reel: Diawa Certate 2500
Line: 3lb Yamatoyo FC
Method: Drop Shot size 10 hook 1/8oz lead
Lure: Marukyu Power Isome